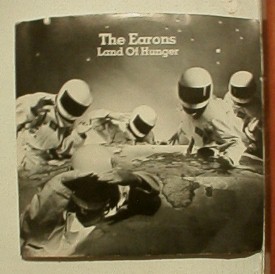 THIS I KNOW for sure.
BUT
FRIZELLE
is correct: I am losing my mind.
MEANWHILE: an Earon progress report from the comments.
THE ACRONYMED T.A.M.S.Y. turns up an extremely plausible theory re: the true, non-numerical identity of several of the Earons...
BEGIN QUOTED TEXT:
The good news is that the all-seeing eye of the Google has indeed unmasked the
true identity of the Earons
, although it took a bit of squinting. The band appears to have been based in New York — or anyway, three of its presumed members previously played with bands based there (
Melvin Lee
,
Kevin Nance
and
Alonzo "Lonnie" Ferguson
comprised 60% of the disco-funk band
Machine
; Nance also played with the eccentrically punctuated
B.B.&Q. Band
, a.k.a. the Brooklyn, Bronx and Queens Band). The other two members of the band appear to have been
Henry Pizzicarola
, who has
mysteriously vanished
, and Percival Prince, who is
a British airplane
.
END QUOTED TEXT
THIS IS A PROMISING LEAD, yet even unmasked, these Earons remain mysterious. Where are Lee, Nance, and "Lonnie," now, and what are they wearing for head protection these days?
AND HOW DID HENRY PIZZICAROLA DISAPPEAR?
Several others, including
JESSE,
pointed out the allmusic.com/wikipedia standard text...
BEGIN QUOTED TEXT
"A band whose gimmick proved more intriguing than most of their music, the Earons were a funk variation on Sun Ra's cosmic mythology approach, with a little bit of Anthony Braxton's mathematical obsession added. They claimed to come from "Earon Earth," and all the members were known only by numbers. They did have one outstanding single, the hard-hitting and musically arresting "Land of Hunger" in 1984. It deserved a better fate in R&B circles than its ultimate stalling out at number 36. Still, this was the only one of three Earons singles that even made it beyond number 50, and they soon disappeared, probably returning to "Earon Earth."
END QUOTED TEXT
BUT LISTEN, I was a freeform DJ at
WMFO
in Medford, MA. I know me some Sun Ra and I know me some Anthony Braxton.
APART FROM GENERAL, BEAUTIFUL NUT-JOBBERY, what is it exactly about masked men in white jumpsuits saving blonde white people from moving tiny levers in an abandoned oil derrick that suggests the work of
Anthony Braxton
?
OR DOES THE AUTHOR OF THIS CITATION KNOW MORE than he/she is letting on? Does he/she have access to primary sources other than this video? And who is the author anyway.
DOES HE OR SHE HAVE A NAME? Or a number.
The internet awaits the answers.
As do I.
That is all.